As some of you may know, Urban Water Solutions' Managing Director Neil Moody is preparing to complete the Oxfam Trailwalker Challenge on the 29th and 30th March 2019.  Teams of four walk 100km to tackle poverty.  Neil has been undertaking regular training walks and is feeling good about the walk.
For those that wish to sponsor Neil donations can be made at https://trailwalker.oxfam.org.au/my/donate/payment/34425/128570
Below is a picture of MaD2019 on a training walk.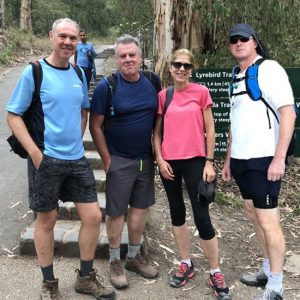 The rest of Urban Water Solutions are not sitting idle either.
Team Urban Water Solutions is undertaking WaterAid's Walk For Water.  Each team member will walk 10,000 steps a day between 18 and 22 March, to raise money to help provide lifesaving safe water to some of the world's poorest communities.
Donations gratefully received at  https://fundraise.wateraid.org.au/fundraisers/Urban-Water-Solutions