Urban Water Solutions were delighted to share recent project experiences at the Innovyze User Days in November 2018.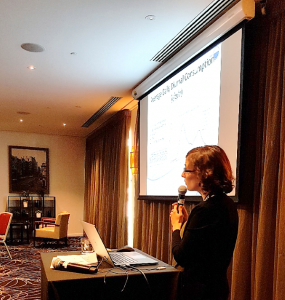 Irene Estrada-Subirats and Ann Pugh presented on modelling work undertaken to determine what impact a customer's internal plumbing will have on their experience of supply pressure.
Using assumptions about different pipe roughnesses and demands it was possible to generate a series of plots showing the potential impacts of a customer's pipework.  The 'pressure related demand' function within InfoWorks WS Pro was used to determine the impact that competing demands would have on each other.  Examples included the impact of garden watering on showering, and two showers in a double storey house competing for water.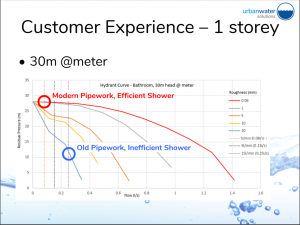 Graduate Engineer, Aidan Sloggett, showed how an InfoWorks ICM model was used to determine the sizing of a dry weather pump at Rotary Park Sewage Pumping Station (SPS) which is estimated to save over 80% of the annual energy costs at this site.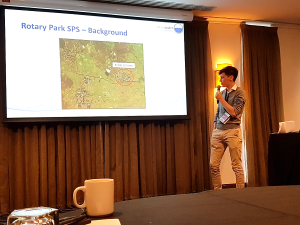 He also demonstrated how Failure Based Assessments can be used to provide operations with information regarding time and location of spill in the event of pump station failure.  The presentation also showed how operational controls such as 'interlocks' can be developed to optimise the use of SPS storage in minimising spill volumes in the event of pump failure or during wet weather events.