South Yarra Main Sewer Diversion
The construction of the Domain Station, near the corner of Domain and St Kilda Roads in the City of Melbourne, is part of the Melbourne Metropolitan Rail Project (MMRP). This required the diversion of a portion of Melbourne Water's South Yarra Main Sewer, a 120-year old 1905 mm brick sewer which carries over 10% of Melbourne's sewage flows.
Urban Water Solutions was engaged by Kellogg Brown & Root Pty Ltd, one of the main contractors on the MMRP, to analyse the options proposed for diversion of the South Yarra Main Sewer and their impact on overall system performance.  Melbourne Water's InfoWorks ICM V6.07 hydraulic model was provided for the analysis.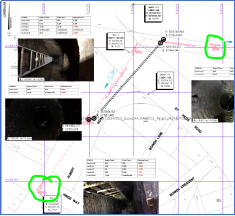 Prior to analysing the diversion options Urban Water Solutions undertook a detailed review of the Melbourne Water hydraulic model and, in consultation with Melbourne Water, made various amendments to the model to better reflect existing conditions in the South Yarra Main Sewer.  Subsequent analysis of the proposed options was undertaken, and a preferred option recommended.  The diversion of the South Yarra Main Sewer was completed in December 2017.